Chlamydia, like other STIs, is passed from an infected person to a partner through certain sexual activities. Chlamydia is passed primarily during anal or vaginal sex. Chlamydia can be passed even if the penis or tongue does not go all the way into the vagina or anus. If the vagina, cervix, anus, penis or mouth come in contact with infected secretions or fluids, then transmission is possible.It is less likely to be transmitted through oral sex.
Chlamydia can be passed when the mucous membrane—the soft skin covering all the openings of the body—comes into contact with the mucous membrane secretions or semen of an infected person. This is what happens during unprotected sex (that is sex without a condom) whether vaginal or anal sex.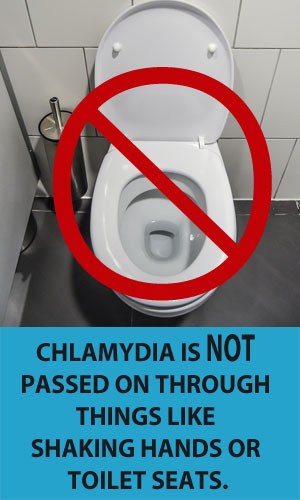 Oral sex is not a common cause of infection with this bacteria. Chlamydia is less likely to be transmitted during oral sex because the bacteria that cause chlamydia prefer to target the genital area rather than the throat. This is why it is unlikely for chlamydia to be transmitted from mouth-to-penis and penis-to-mouth contact, although it is still possible. It is even less likely for transmission to take place from vagina-to-mouth or anus-to-mouth contact. Transmission is not known to occur from mouth-to-vagina and mouth to anus contact.
Even a woman who has not had anal sex can get chlamydia in the anus or rectum if bacteria are spread from the vaginal area, such as when wiping with toilet paper.
Eye infections may result when discharge caries the disease into the eye during sex or hand-to-eye contact.
It can also be passed from mother to newborn as the baby passes through the infected birth canal. This can result in eye infections, pneumonia or other complications. In children, chlamydia may be a possible sign of sexual abuse.